I'm reading faster than I can review these books! The past 2 books I've read have both been from the
Kindle Daily Deal
site; I think the books were .99, so I figured I'd give them a shot.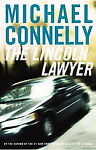 The Lincoln Lawyer by Michael Connelly
This movie was released a few months ago & I thought the ads for that looked decent, so when the daily deal came out I figured I'd give the book a shot first. I really, really enjoyed the book! It was a John Grisham-y type of plot, but a bit more....snarky? I don't know what the best adjective would be. But the plot was suspenseful, and the author kept you guessing.
Barefoot by Elin Hilderbrand
Again, another daily deal, but the description sounded like something I would enjoy (actually, the description reminded me a bit of
Beaches
) I found the author to be a teensy bit wordy at times, and I found myself skimming some of the long, super-descriptive passages, but overall I really liked it. I found it interesting that at different times in the book, I liked and disliked the same characters...there were times you were rooting for one of them, and agreeing with their choices, and other times I just wanted to reach into the book & slap sense into one of them.
The book was set in Nantucket, and I loved the setting and the way the author made you feel like you were right there in the quaint little beach town. I would read more books by this author, they would make for great summer reads!