We won't be doing Jake's big boy room until March, but of course I'm all giddy finding fun stuff to decorate it with. I wanted to do an animal theme but had a really hard time finding bedding and decor that didn't look babyish. After searching high & low, I gave up on the idea of finding an actual bedding set with animals & just decided to get a plain comforter (still looking for this, but I want green) and just buying fun accessories to pull in the animal theme. Here are some of the things we have for the room so far (his walls are bright yellow)....
Pillow & fun table lamp from
IKEA
:
Wall art from
Etsy seller JaneyMac
:
And some fun accessories from Kirklands (the first elephant, the tall elephant from the 2nd picture and a giraffe that I don't see online):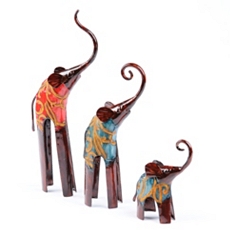 Overall, I'm happy with what I have so far---I feel like it still looks like a kid's room because of the bright colors, but I love the little statues I found at Kirklands that tie it all in without going overboard. Thoughts? Other stuff you've seen that would look cute? Let me know!