This week I'm also linking up over at
Momfessionals
Friday Favorites!
Favorite Find #1: HGTV's Fixer Upper
I decided to check this show out after my friend Jenn over at
Running for Lemons
mentioned it on her blog....one show in and I was hooked!
Related note: Brian and I have this bad habit of finding a show on HGTV, binge watching episodes on weekend nights on-demand, then growing sick of the show. I didn't want that to happen with this series, so we're taking our new relationship with it a bit more slowly than in the past.
I love their decorating tastes, their personalities, and her entire wardrobe.
photo courtesy of HGTV.com
Favorite Find #2: Reilly's Summer Seat Farm Groupon
We didn't make it to Reilly's last year for their Fall Harvest Festival, but we definitely wanted to go this year since we've had a great time there in the past...so you can imagine my excitement when I came across a Groupon for it this week!
Click here
to get your groupon....it's a great deal, we got 4 tickets to the fall fest for $14 (50% off!) and that includes all kinds of activities like a hay ride to the pumpkin patch, haunted house, face painting, marshmallow roasting, and more! For the full list of activities, visit:
http://www.reillyssummerseatfarm.com/festivals/fall-festival.aspx
Favorite Find #3: Plum Paper Designs Life Planner
I have probably said 100 times in the past year, "I really need a personal assistant". It's embarrassing the number of times that I've said to someone, "sure, I'll be there!" only to come home, look at my wall calendar and realize we already have two other things planned that day. Now, before you start telling me how this is what my iPhone is for and all about the wonders of google calendars, I'm just going to stop you right there. I love my iPhone. I have embraced it. But I cannot, I repeat cannot, get on the electronic bandwagon for certain things. To do lists and scheduling are some of those things. (example-at work, I still utilize a giant white board that hangs behind me to keep track of my tasks)
I started scouting some out when I was having anxiety attacks over our busy weekends starting next month so I figured maybe it was time to do something about it. Why have I never thought to use a planner in my personal life?? I used one all through college and (nerd alert) loved it. The option that I decided on that I hope will work well for me is from Plum Paper Designs. I got this style, but they had so many cute options it was hard to pick!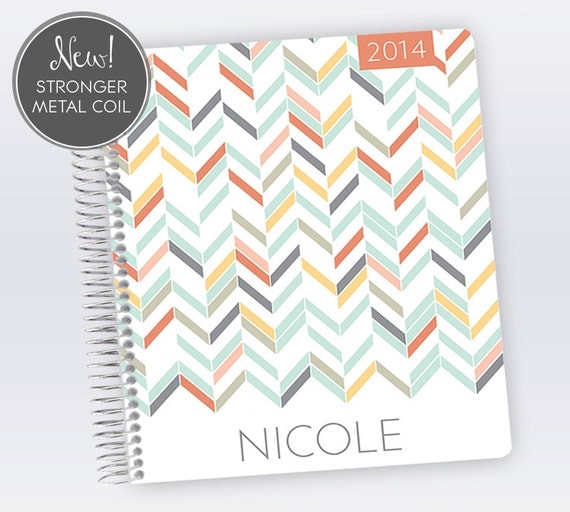 photo courtesy of plum paper designs
Isn't it a fun design?
I loved many of the features, including the fact that you could select from a variety of options for layout (I went with a weekly spread with everyday broken down into morning/afternoon/evening) and extra pages for notes, full monthly calendars, and a contacts/holidays page.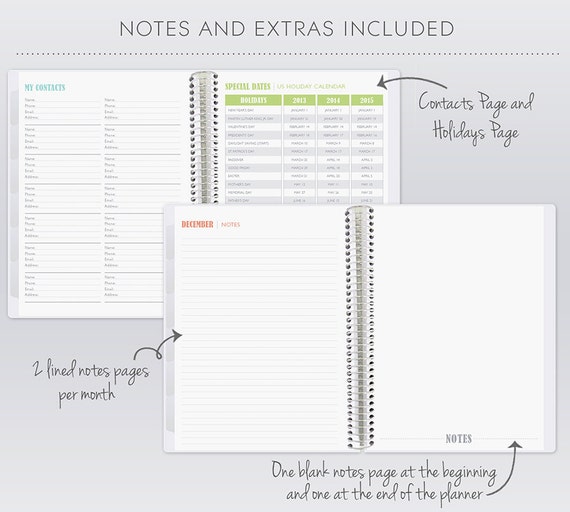 photo courtesy of plum paper designs
It hasn't arrived yet, but I will be stalking my mailbox until it gets here and post a full review. It was certainly less expensive than having to hire a personal assistant, so I'm hopeful that it will help me out a bit.