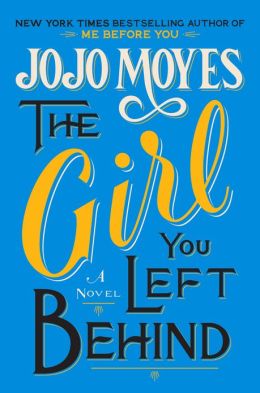 The Girl You Left Behind by JoJo Moyes
Description from amazon.com: France, 1916: Artist Edouard Lefevre leaves his young wife, Sophie, to fight at the front. When their small town falls to the Germans in the midst of World War I, Edouard's portrait of Sophie draws the eye of the new Kommandant. As the officer's dangerous obsession deepens, Sophie will risk everything—her family, her reputation, and her life—to see her husband again.
Almost a century later, Sophie's portrait is given to Liv Halston by her young husband shortly before his sudden death. A chance encounter reveals the painting's true worth, and a battle begins for who its legitimate owner is—putting Liv's belief in what is right to the ultimate test.
My review: I would definitely recommend this book, I couldn't put it down, especially about halfway through when the story really started to pick up. It was heartbreaking at times, but definitely worth the read. If you liked
Sarah's Key
, you would love this book!
Up next:
And the Mountains Echoed
by Khaled Hosseini