If you're sick of reading my posts about decor and plans for the new house, then stop reading now. You've been warned.
Still with me? Great. Our new house has a screened-in sun room off of what will be the playroom. It has brick walls, painted all white, with a concrete floor (we'll need to pick up some type of indoor/outdoor area rug to cover most of it up...just not multiple rugs that don't match, like the previous owners did).
Yes, that's my kid trying to steal the citronella candles from under the dining room table saying "I need those buckets"...
Now the big question....what to do with the rest of the room? It leads out to the patio, where we will have a set of tables & chairs, so I don't feel like we need to put a table or anything in it. Outdoor type seating is a possibility, we already have this 5 piece set that currently resides in our gazebo:
Any other ideas? I'm thinking about picking up some of these
$5 curtains
from IKEA to hang in the corners and add to the airy look of the room, copying this look from Young House Love (one of my new favorite blogs!):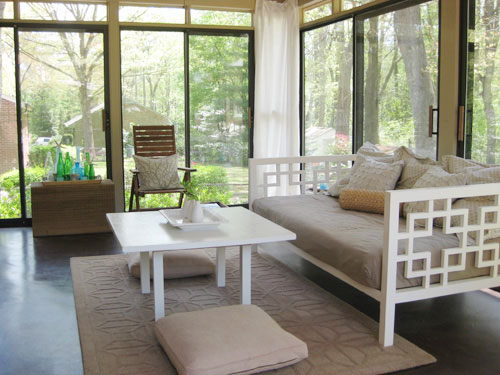 Since the room is so white, I have the urge to do something beachy. Not over the top, luau-style or anything, but just subtle. Some nice blues, some seashells, plants maybe? I like fun touches like this (images from
Young House Love
and
The Lettered Cottage
):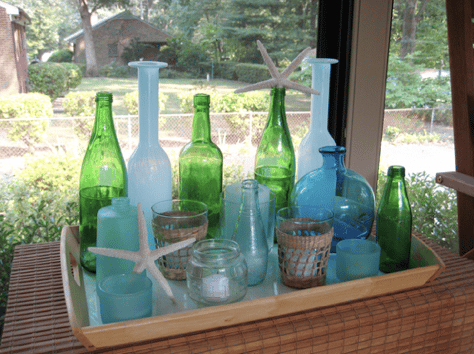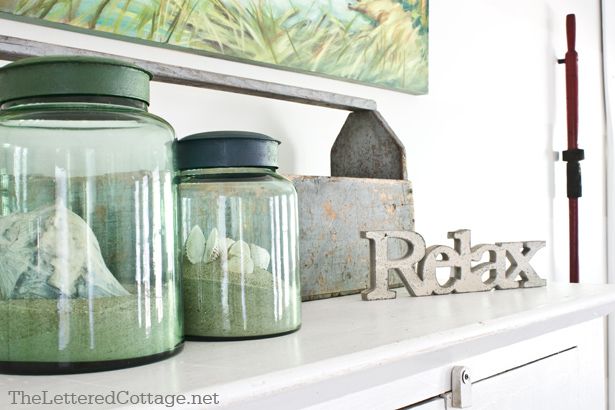 Or, I could just stick with the clean white look and add in some green accessories, more like this (featured on
Centsational Girl
blog):
What to do, what to do....